By keeping up with routine septic pump-outs, you can lessen the risk of a septic backup.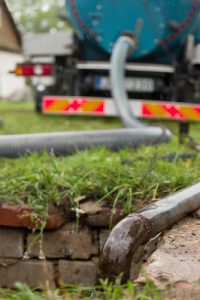 In order to protect the condition of your septic system and reduce the risk of septic backups and other issues, it's critical to keep up with regular maintenance. Your septic system should be inspected by an experienced technician at least once every few years, and your tank must be pumped out on a regular basis as well. The septic tank is the storage place for all the liquid and solid waste that moves through the drains in your home or business, and the layers of waste can overload the tank over time. Most septic tank manufacturers recommend having the tank pumped out every three to five years, although the size of your tank and needs of your household will play a role in the recommended schedule.
Our team at Quality Septic Inc. is available to provide septic pump-outs at your Odessa, Florida property regularly. We have trained technicians who understand the importance of septic maintenance and will handle septic pump-outs efficiently and carefully to avoid any damage to the property that surrounds the tank. Some of the warning signs of an overloaded septic tank include slow-moving drains, sewage backing up into your house or onto your property, unpleasant odors in the home or around the tank, and wet spots in your yard.
By keeping up with routine septic pump-outs, you can lessen the risk of a septic backup. When you contact us, we'll recommend a maintenance schedule and come back as often as needed to pump out your tank and ensure that you have plenty of space for additional waste as it moves through your drains and pipes.
---
At Quality Septic Inc., we perform septic pump-outs in Land O'Lakes, Lakeland, Brandon, Lutz, Plant City, Seffner, Odessa, Wimauma, and Tampa, Florida.