Every septic system has an area known as a drain field, which receives water from the septic tank. Some systems also have a lift station and are raised above the ground around it. Some are in the ground but still serve the same function.
A drain field is the simplest mechanism in your septic system; however, you can't push water into a container already filled without it overflowing. That's just a law of Nature that applies to everything including drain fields.
In order for your drain field to accept more water, that system needed to be built up above the ground (a taller container in the case of the analogy) for this to be able to happen.
How to Keep from Overloading Your Drain Field
Your septic system processes hundreds of gallons of water every day. Depending on your usage habits, the water volume may be too much for the soils to accept.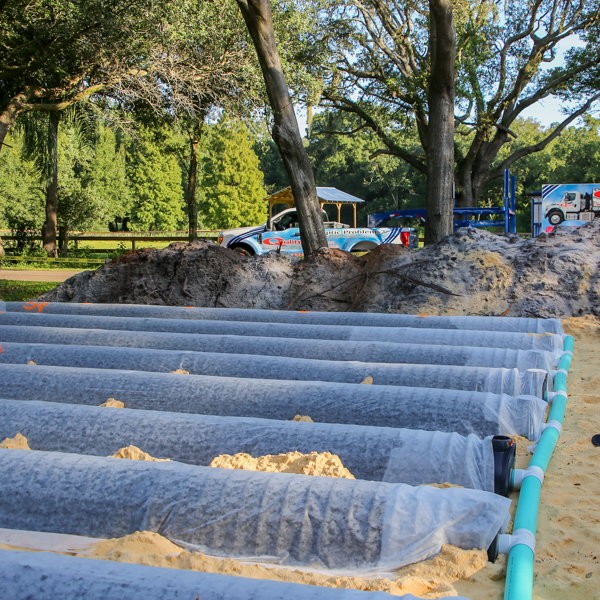 Simple alterations to your lifestyle can prevent drain field overloading. These include rotating your laundry schedule to allow time between loads for the liquids to properly drain, and spacing out your showers.
While actual maintenance is rather difficult to perform on drain fields, there are some ways to protect your investment. As the old saying goes, "An ounce of prevention is worth a pound of cure."
How to Protect Your Drain Field
Avoid driving anything larger than a riding tractor or mower over your drain field. Cars, trucks and SUVs can destroy the material that makes up the drain field system.
You can take our word for it: the minor inconvenience of having to drive around and park away from the drain field is nothing in comparison to the hassle and expense you'll incur if your heavy vehicles cause serious damage to your drain field.
Another tactic for protecting your drain field is to never cover the field with concrete, porches or other permanent additions. All this extra weight can easily cut down on the system's ability to properly drain liquids.
Put discrete markers in your yard, if necessary, to remind you of exactly where your drain field is located. Do the same for your septic tank, if it's in an area that might be targeted for paving, driving or parking. Whatever it takes, just make sure your underground septic system is off-limits to anything heavy and possibly destructive.
Drain Field Repair & Installation Experts
Are you having issues with your drain field? Are drains or toilets backing up and you don't know exactly what to do? Are you not sure if it's the drain field or some other part of the septic system that's responsible for the problem?
The drain field replacement professionals at Quality Septic Inc. have been providing fast, friendly septic services to homeowners in Plant City FL, Brandon FL, Tampa Bay FL, Lutz FL, and Land O' Lakes FL, since 1994. We'll get you the answers you need and get you up and running again quickly. Often imitated, never duplicated!
Speak with a septic system and drain field expert today by calling (813) 754-9891.