We're the original septic contractor in the area.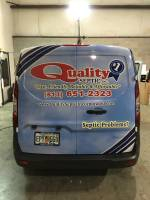 If you want a septic contractor with a proven record for quality, the only one to call is Quality Septic Inc. We are the original septic contractor for the area, and although others try to imitate our excellent service, quality repairs, and affordable prices, no one else come close on all counts. Why settle for a copycat when you can get the original?
There truly is no substitute for experience, and our 25+ years have chiseled us to the point that we're able to do things nobody else can. For example, we repair more "lost causes" than you might imagine. While another septic contractor will throw in the towel and recommend replacement, we often can resurrect the system to achieve a few more years of service.
We also have the experience to know a real lost cause rather than have you waste money on "Band-Aid" remedies. Put that together with our long-standing reputation for integrity, and you can be confident you are getting the best recommendation for your situation.
Our long-time customers have trusted us with their septic needs for over 25 years– call us today and find out why!
We are also known for affordable residential and commercial services. We'd never sacrifice quality to give you an insanely low price. Quality and affordability can be both offered, again because our experience makes that possible. An inexperienced septic contractor will take longer on the job, costing you more money in the long run.
4 Questions to Ask Your Septic Contractor During Every Routine Appointment
Here at Quality Septic Inc., we know that when a septic specialist comes to your home to pump your tank or perform a maintenance inspection, all you want to hear is that everything is in good shape at the end of the service appointment. While it's good knowing your septic system is working like it should, there are still a few things you should always ask the septic contractor who visits:
1. What's the outlook for repairs? When it comes to maintaining your septic system, it's better to catch and fix problems early on. Ask the septic specialist who visits whether any minor repairs are needed and make an appointment to get them fixed sooner rather than later. Your wallet and your sanity will thank you later!
2. How can I avoid problems in the future? Your septic contractor is the best person to ask about preventing issues with your septic system. They can also recommend measures specific to your home and system for keeping things running smoothly.
3.Is drain field or tank replacement needed soon? If you live in an older home with an older septic system, you may wonder if replacing your drain field or septic tank is in the near future. Getting your septic specialist's opinion can help you start putting plans in place for this major investment.
4.When should I schedule another pumping appointment? Pumping out your septic tank is one of the best things you can do for your entire system. Ask your septic contractor when you should schedule another pump-out, so you don't end up dealing with septic tank problems.
If you have questions about how a septic contractor can keep your system functioning efficiently, or if you would like to know more about our services, don't hesitate to call. We'll show you how you can get fast, friendly, reliable, and affordable service all at the same time that only an experienced septic contractor can deliver.
---
At Quality Septic Inc., our septic contractors proudly serve Land O'Lakes, Brandon, Lutz, Wimauma, Valrico, Plant City, Ruskin, Seffner, Lakeland, Odessa, Thonotosassa, and Tampa, Florida.