As a septic contractor, we deliver a variety of septic services to our customers.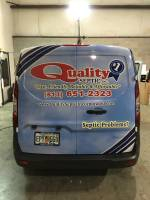 When your property has a septic system, it's important to have a trusted partner who can take care of the routine maintenance tasks and be available for any urgent repair needs. This partner, often referred to as a septic contractor, should have the experience needed to diagnose and repair all types of septic issues, as well as provide maintenance as often as needed. If your property is in or near Tampa, Florida, our team at Quality Septic Inc. is available to become your trusted septic partner.
As a septic contractor, we deliver a variety of septic services to our customers. These services include repairs, maintenance, and installation of all the components of your system. We also provide commercial septic services in the Tampa area. If you're experiencing a problem with any part of your septic system, don't hesitate to contact us. We'll send a technician to your property to assess the issue and make a plan to get it resolved as quickly and efficiently as possible. When you're having a septic issue, you may spot some warning signs, such as slow-moving drains, puddles in your yard around where the tank or drain field is buried, or unpleasant odors in your home or yard.
We're a leading septic contractor in the Tampa area, and we're confident in our abilities to properly care for the septic system at your home or business. If you have questions about septic system care and maintenance, feel free to contact a member of our team for more information.
---
At Quality Septic Inc., our septic contractors proudly serve Land O'Lakes, Brandon, Lutz, Plant City, Seffner, Ruskin, Wimauma, Valrico, Lakeland, Odessa, Thonotosassa, and Tampa, Florida.