We're the original septic contractor in the Thonotosassa area.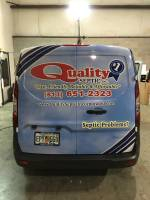 If you want a septic contractor with a proven record for quality, the only one to call is Quality Septic Inc. We are the original septic contractor for the Thonotosassa, Florida area, and although others try to imitate our excellent service, quality repairs, and affordable prices, no one else come close on all counts. Why settle for a copycat when you can get the original?
There truly is no substitute for experience, and our 25+ years have chiseled us to the point that we're able to do things nobody else can. For example, we repair more "lost causes" than you might imagine. While another septic contractor will throw in the towel and recommend replacement, we often can resurrect the system to achieve a few more years of service.
We also have the experience to know a real lost cause rather than have you waste money on "Band-Aid" remedies. Put that together with our long-standing reputation for integrity, and you can be confident you are getting the best recommendation for your situation.
Our long-time customers have trusted us with their septic needs for over 25 years– call us today and find out why!
We are also known for affordable residential and commercial services. We'd never sacrifice quality to give you an insanely low price. Quality and affordability can be both offered, again because our experience makes that possible. An inexperienced septic contractor will take longer on the job, costing you more money in the long run.
If you have questions about how a septic contractor can keep your system functioning efficiently, or if you would like to know more about our services, don't hesitate to call. We'll show you how you can get fast, friendly, reliable, and affordable service all at the same time that only an experienced septic contractor can deliver.
---
At Quality Septic Inc., our septic contractors proudly serve Land O'Lakes, Brandon, Lutz, Wimauma, Valrico, Plant City, Ruskin, Seffner, Lakeland, Odessa, Thonotosassa, and Tampa, Florida.