We have been offering septic repair and installation services in the Hillsborough, Polk & Pasco County area since 1994
Septic Tank Pumping
Get your tank pumped regularly, call us today!
Septic Tank Services
When your septic tank needs servicing, call Quality Septic
Drain Field Replacement
Call us to repair or replace your drain field
Welcome to

Quality Septic Inc
After you call the rest, call the best! We are the #1 septic company in Florida! Our quality and workmanship are guaranteed!
When you are in need of septic maintenance and repair, look no further than Quality Septic Inc. in Tampa, Brandon, and Plant City, Florida. We are experts on septic maintenance and specialty repairs, including grease trap installation or pumping, elevated drain field installation, engineered septic systems maintenance or cleaning, engineered design systems, and HRS inspections. Quality Septic Inc. has been in the business of serving Hillsborough, Polk and Pasco Counties for over 25 years and has built a reputation for fast, friendly, reliable service. We are open Monday through Friday from 7 a.m. to 5 p.m. and Saturday through Sunday from 9 a.m. to 5 p.m. We are happy to work around your schedule. Call us today!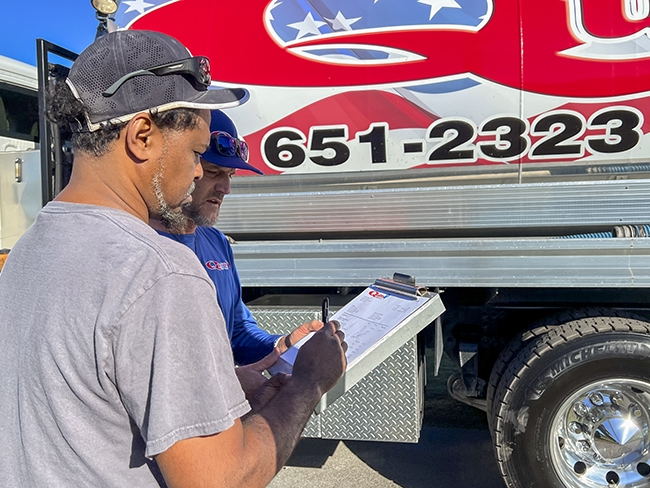 Commercial and Residential
Septic Tank Certifications
Installation of Grease Traps
Septic Tank System Inspections
Septic Tank Certifications
Lift/Pump Station Installation
Mound System Installation
Quality Septic Is Your Go-To Source For Repairs In Hillsborough County!
Quality Septic Incorporated has earned the reputation of being top-rated and well-trusted by customers in Hillsborough County and the surrounding areas for over 25 years. Being locally owned and operated, QSI provides a full range of septic services, both commercial and residential. We have repeat customers who have been with us for many years, so you can trust Quality Septic to be honest, fair and reasonably priced.
We are a drug-free workplace and carry workman's compensation and general liability insurance. All of our employees are on our payroll. We never use subcontractors.
We are family here at QSI and we will take care of you, our customers, like a member of our family! There is no job too big or too small for QSI! Give us a call and experience the difference!
We treat our customers with with respect and fairness that you simply will not experience from competitors.

"
Quality Septic Incorporated, showed up promptly when we had a serious septic system clog . They pumped the tank first. Then they found that tree roots had ruptured and clogged the septic line. Quality Septic Inc. replaced the septic line and all is well. We were amazed at how inexpensive the repair bill was.
"
J. Thomas, Homeowner in Tampa
"
We have used Quality Septic Incorporated since 1999 for all of our septic pumping and drainfield repairs. By having our septic system pumped on a regular basis, It has kept us from having huge, unexpected repair bills. A septic tank MUST be pumped on a regular basis to keep from causing major damage to your drain field
"
Ron Thompson, business owner in Tampa
"
These folks really impressed me. When my old system went down they came out right away and had my new one installed and operational in a few days. Everyone I dealt with there was courteous and very helpful. The work was performed quickly and professionally.
"
B. Warren, Happy QSI Customer
"
I rarely give five stars to any services company. These guys deserve 5 stars. Quality Septic Inc.(owner Kevin Johnson) , is the most knowledgeable, professional, friendly and honest septic system services company you will find!
"
R. Dom, Happy QSI Customer
"
From my first impression with Rhonda & Angelo on the phone, to meeting Kevin Johnson at my house for the estimate, and finally JoJo & Andy who installed my new system, I could not have made a better choice. Their quality is second to none and the time they take to explain the process is great!
"
R. Garvin, Happy QSI Customer
Quality Septic Proudly Supports