When you need service for your septic system, you need a company that brings solid experience to the table. Since 1994, Quality Septic of Lakeland has been helping our customers with septic tank pumping, system repairs, septic inspections and complete installations. Here's how we can help you.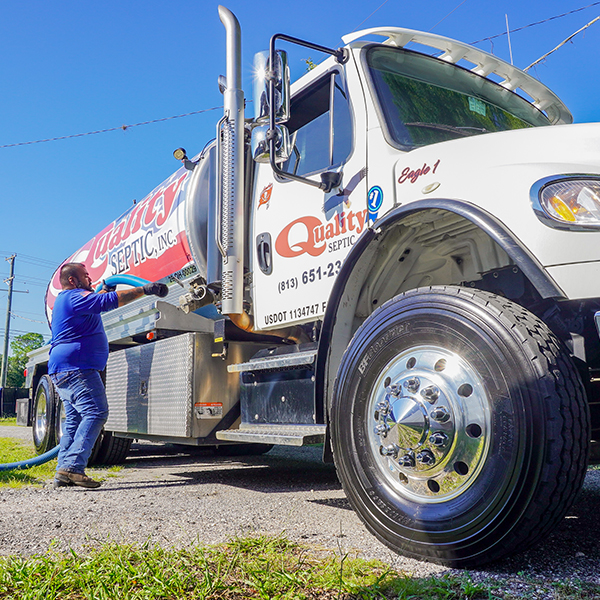 Septic Tank Pumping, Lakeland FL
Having your residential or commercial septic tank pumped out on a reasonable schedule accomplishes two things:
It prevents damage to certain areas and components of the system
It prevents the nagging issues many Lakeland residents complain about, including sewage backups, offensive odors inside and outside the home, and leaks in the yard that cause the ground to recess.
Quality Septic has the trained personnel and equipment needed to keep your septic tank clean and efficient.
Septic Repair & Inspection
The repair technicians at Quality Septic of Lakeland take pride in their work and in solving any septic system issue they might encounter.
We provide licensed, experienced technicians for:
• Septic tank repair
• Drain field repair
• Lift station repair
• Lift station pump repair
• Grease trap repair
Lakeland Septic Install
Installing a new septic system, which can include the septic tank, drain field, possibly a lift station, and numerous other components, isn't a job for a "handyman" or novice. We've built a reputation throughout the Lakeland, Florida, area as licensed septic system installation experts who can properly handle all sizes and types of septic installs.
Our work will be done correctly, and we'll make sure that everything we do complies with state and local septic regulations. We know the Lakeland area, and we know what it takes to install a compliant septic system.
Drain Field Repair & Inspection
When problems arise with your drain field, which is downline from the septic tank, you need to address the issues quickly. In order to do this, we perform a thorough drain field inspection that tells us exactly what's happening and what will be needed to reverse the problem. We then show you what we found.
Drain fields can be damaged by driving over or parking heavy items on top of them. They can fall into disrepair because of excess grease and other materials from a neglected septic tank. Whatever the problem, we know how to find it and fix it.
Drain Field Installation
Our crew installs residential and commercial drain fields throughout Lakeland, FL, and surrounding areas. Often, this work is part of a complete septic install; in other cases, we build a new drain field to replace one that can no longer be repaired.
Lift Station Install & Repair
If your Lakeland home or business sits on sloped land, a lift station may be required to pump waste from your drains and toilets and through the septic system. We'll survey the land during a new construction project and advise on whether or not a lift station is needed. For existing lift stations, we can repair many of the problems that may arise. When the lift station is severely damaged, we can replace it.
Quality Septic Is Here When You Need Us
Quality Septic provides a full menu of residential and commercial septic services in Lakeland FL, Mulberry FL, Lakeland Highlands FL, Winston FL, Kathleen FL, Willow Oak FL, and more.
Speak with a septic expert at (863) 563-1441 or get in touch with our simple contact form.

Quality Septic Inc.| 745 Creative Dr, Lakeland, FL 33813