When septic system trouble arises, Lakeland, Florida, relies on Quality Septic for speedy, professional service and jobs done right every time.
Since 1994, we've been serving Lakeland-area homeowners with a full menu of residential septic services performed by licensed, insured and fully experienced technicians. Here's how we can help you.
Septic Tank Pumping
Nothing's worse than the smell of raw sewage – unless it's sewage backing up into your sinks, tubs and toilets. With regular septic tank pumping at your Lakeland home, you can avoid the many unpleasant results of an overfilled tank.
We'll recommend a pumping schedule based on your tank size and usage to make sure everything runs and flows the way it should.
Signs That Your Septic Tank Needs Pumping Out
Many slow drains in your home (a single slow drain may point to a plumbing problem)
Strong sewage odors both inside and outside your home
Toilets that won't flush completely or back up and overflow
Extra-green grass and weeds growing over the tank
Damp or sunken patches of ground over the tank
Lakeland Septic Tank Repair
There are few, if any, septic tank and septic system repair issues our crew hasn't seen and solved. We provide repair services in and around Lakeland to get your septic system working correctly again.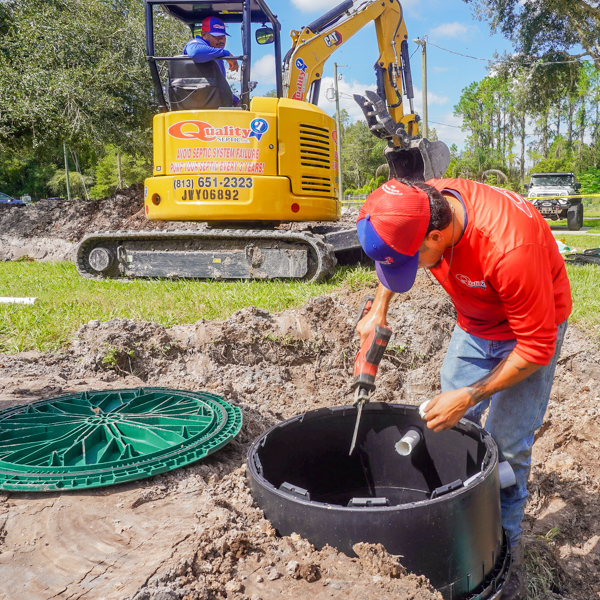 Septic tank repair
Drain pipe repair & replacement
Grease trap cleaning & installation
Drain field repair
Lift station repair
Lift station pump repair & replacement
and other critical septic repair services
Septic System Inspections
We begin all repair work with a thorough septic inspection. This is the only way for us to know exactly what's happening, why it's happening and what type of damage has been caused by it.
Along with emergency inspections, we highly recommend that you schedule annual septic system inspections as part of a sound preventative maintenance plan. Annual inspections will alert us to early signs of problems so we can get them fixed fast.
Residential Septic System Installations
If you're building a new home in Lakeland and need a septic system, call us to manage the job from start to finish. For more than 25 years, we've been installing top-line septic systems that meet all Florida state and local septic codes and regulations.
As part of a residential septic installation, we'll advise you on:
The best area to place the tank
Any soil issues that need to be dealt with before work begins
The correct septic tank size, based on your usage patterns
Whether or not a lift station will be needed to channel waste uphill
Proper care and maintenance of your new system
Expert Septic Help When You Need It
Quality Septic of Lakeland is standing by for all your emergency and routine septic system needs. When the job must be done right the first time, call the experts at (863) 563-1441 or reach out with our handy contact form.
We offer complete septic services, including septic tank pumping, tank and drain field repairs and installations, lift station installs, licensed inspections and more. We proudly serve homeowners in Lakeland FL, Mulberry FL, Lakeland Highlands FL, Winston FL, Kathleen FL, Willow Oak FL, and other nearby cities and towns.


Quality Septic Inc.| 745 Creative Dr, Lakeland, FL 33813