We have been offering septic repair and installation services in the Brandon area since 1994.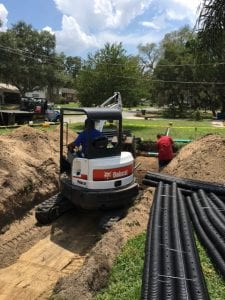 We are the #1 septic company in the area! Our quality and workmanship are guaranteed!
Quality Septic Inc. has been in business since 1994. Kevin Johnson is the Owner/Operator of Quality Septic Inc. He graduated from Brandon High School and has lived in the area ever since, so he knows Hillsborough County well. Kevin has been in the septic industry for over 25 years and is a state licensed septic contractor. He is very talented in the area of installation and designing septic systems for his customers.
Kevin and his staff are experts on a backhoe, providing precision workmanship with minimal tear-up of one's yard or job site. Quality Septic Inc. can get the job done, no matter the level of difficulty. Kevin's education and experience speak for themselves after just one conversation with him. Watching Quality Septic Inc. work will bring immediate confidence that you have chosen the right company for your job.
Quality Septic Inc. prides itself on hiring the best staff! You can feel rest assured because QSI has been qualified as a drug-free workplace and carries workman's comp and general liability insurance. All employees are OSCA trained. Kevin is proud of the fact that he and his staff are responsible and take immense pride in their work, appearance, and professionalism!
We at QSI are always just a phone call away. You will never have to worry if an emergency were to occur. Quality Septic Inc. is here for you. Do you have questions? Do you want honest and correct answers? Our trained staff is waiting to hear from you! We have repeat customers who have been with us for over 25 years– see why! Our #1 goal is customer satisfaction!
Call now for a free consultation and estimate! 813-754-9891
"After you call the rest, call the best!"