Keep your septic system working properly with one of our septic pump-outs at your home or business.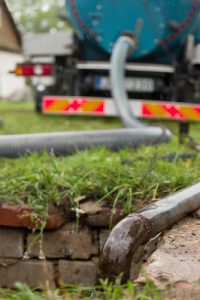 It can be easy to forget about your septic system until you suddenly notice that your drains aren't draining properly, or you smell a bad odor, or you realize there is standing water in your yard near your septic system. Don't wait until your system backs up to schedule your septic pump-outs. We are standing by to help with all your septic needs in or near Wimauma, Florida.
When you call us here at Quality Septic Inc. and ask for our septic pump-outs service, here's what you can expect:
We will come to your property with all the necessary personnel and equipment.
We will locate your tank, even if you aren't sure of its location.
We will dig as needed and remove the lid.
Once we have opened the septic tank, we can begin the pump-out. On average, we pump 1,000 gallons of sludge, water, waste and grease out of a septic tank during one of our septic pump-outs.
After the tank is pumped out, we can inspect it thoroughly, looking for cracks or other damage. We can also check the drain field to make sure that it is functioning well.
Once the septic pump-out is complete, you can expect us to let you know what we found and any recommendations we might have about maintaining and servicing your tank in the future. Generally, septic pump-outs need to be completed every 3-5 years. We can even go ahead and put you on our regular schedule, so you don't have to worry about forgetting. Give us a call today to schedule your next pump-out, or any other septic service you may need.
---
At Quality Septic Inc., we perform septic pump-outs in Land O'Lakes, Lakeland, Brandon, Lutz, Plant City, Seffner, Odessa, Wimauma, and Tampa, Florida.