We Offer a Full Range of Septic Services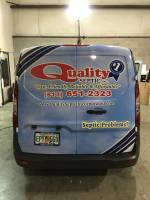 A septic system needs to be maintained correctly, so that it will properly remove waste water from your home or office. Each part of the system is important to the overall function and needs to work seamlessly to ensure that the sewage is separated in the septic tank. Once it is separated, the waste water will be pushed out into the drain field where it needs to be treated, so that it can safely enter the surrounding ground water.
At Quality Septic Inc., we offer all the septic services that you may require including the following.
Drain field installation, inspection, and repair
Lift station installation, inspection, and repair
Grease trap installation, inspection, pumping, and repair
Septic system installation
Septic tank installation, cleaning, inspection, pumping, and repair
We provide our septic services for commercial and residential properties. With years and years of experience we can help you with anything that is a worry or concern for you. We'll also provide our recommendations for maintenance and for when to have something repaired as opposed to having it replaced.
If you're in the Brandon, Florida area and in need of septic services for your home or for a business, give us a call. We are happy to set up an appointment with you to figure out what needs to be fixed and how we can fix it. Whether your system needs repairs, cleaning, or replacement, we're here to help. Our team provides solutions to your problems, and we work hard to make sure that our customers are well cared for.
---
At Quality Septic Inc., we offer septic services in Land O'Lakes, Lakeland, Brandon, Lutz, Plant City, Seffner, Valrico, Odessa, and Tampa, Florida.