Quality Septic of Brandon is ready to help with comprehensive drain field repairs at your business or home. The drain field is a critical part of your septic system, and when it's not able to do its job, serious problems can occur. Here's some helpful information about drain fields and drain field repair in the Brandon, FL, area.
The Job of a Drain Field
Drain fields are areas that sit adjacent to septic tanks and receive liquid waste from the tanks. In the drain field, wastewater is processed and harmful impurities are removed. The "clear" water is then sent safely into nearby soil and local groundwater.
The drain field at your Brandon home or business should be inspected periodically by one of our field technicians. When signs of damage to the field are discovered, drain field repair work should be scheduled immediately.
How a Drain Field Gets Damaged
Here are four common causes of drain field damage and malfunction that we see in our Brandon customers' septic systems.
Impacted soil: This happens when heavy vehicles or equipment are driven or parked over the drain field.
Broken or compromised drain lines: Corroded pipes and excess grease in the system can cause drain lines to fail.
Tree roots: Tree roots have a mind of their own, and they can enter distribution pipes and cause drain field backups.
Neglected septic tank: Problems with the drain field and the septic system in general can occur if the tank isn't pumped out and cleaned regularly by professional septic technicians.
Signs That Your Drain Field Needs Attention
Here are a few signs of possible drain field failure to watch for:
Soggy patches of ground above or near the drain field
Extra-green grass growing in the vicinity of the drain field
Offensive sewage odors in your home or outside near the septic system
Slow sink and tub drains
Toilets that back up and won't clear
How We Address Drain Field Issues for Our Brandon Customers
Quality Septic of Brandon brings more than 25 years of experience to every drain field repair project. We're owned and operated by a Florida state-licensed septic contractor who has seen just about every drain field problem imaginable throughout the Brandon, FL, area.
Before we begin a drain field repair job, we first perform a complete inspection and learn more about what prompted you to call us. We want to know exactly what's happening with the drain field in order to solve the problem correctly.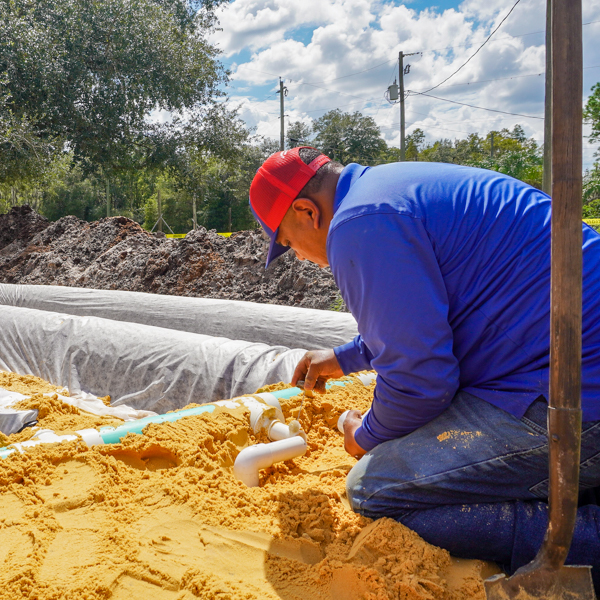 We can repair any type of drain field, regardless of who installed it. We respond quickly to emergency calls, and all our work is done in strict compliance with Florida septic code requirements.
We're Here to Keep Your Septic System Running Right
Whether it's a drain field issue, a problem with the septic tank or the need for a tank pumpout, Quality Septic is standing by to help. Our drain field repair technicians understand your system inside and out and take great pride in jobs well done.
Speak with a septic expert in Brandon today by calling (813) 328-7579. You can also contact us with this simple form.
We offer professional septic services in Brandon FL, Valrico FL, Seffner FL, Riverview FL, Dover FL, Thonotosassa FL, Gibsonton FL, Mango FL, Lithia FL, Ruskin FL, Bloomingdale FL, and the Tampa Bay area.
Quality Septic Inc. | 1811 M Rd, Brandon, FL 33511