Using a septic system is fairly easy. Having one repaired, cleaned or installed can be tricky. That's why Brandon homeowners and business owners rely on Quality Septic of Brandon FL to service their septic systems and keep them easy to use, as they should be.
Septic Tank Pumping
One of the most important maintenance tasks for a septic tank is regular pumping. When you work with Quality Septic, we'll suggest a pumping schedule based on the tank's size and how much you use it. This way, the tank will never fill past capacity.
When septic tank pumping is neglected, bad things can happen:
Strong odors of sewage inside and outside the house
Sinks and drains running slowly or backing up
Toilets backing up
We regularly address these problems for our Brandon customers and encourage them to watch for these and other signs, such as:
Sunken areas of ground over the septic tank or drain field
Super-healthy grass growing only over the tank or drain field
Damp ground over the tank or field
Brandon FL Septic Tank Repair
Quality Septic is ready to respond quickly to trouble with your residential or commercial septic system. We provide a full menu of repairs and can replace any components that become damaged.
How do septic systems and their components get damaged? Common causes include:
Invading tree roots
Heavy vehicles driving over the septic tank or drain field
Heavy equipment or items parked on top of the system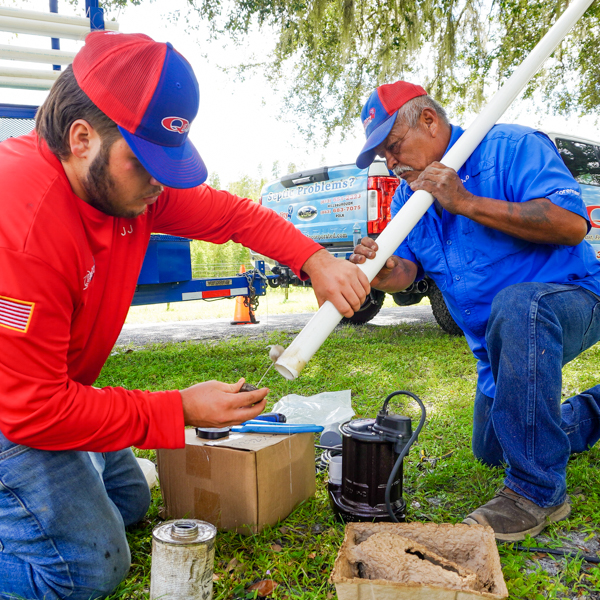 We've been repairing septic systems throughout the Brandon, FL, area since 1994. All our repair work is code-compliant and begins with an inspection.
Septic System Inspections
Inspections are the first step in repairing septic system damage for our Brandon customers. Inspections are also critical as part of your regular septic maintenance schedule, whether or not any damage is present.
Pre-repair inspections tell us exactly what's wrong, where the problem originates and how much, if any, collateral damage has occurred.
Maintenance inspections let us spot early signs of trouble and get issues repaired quickly, before they cost you a lot of money and prevent your system from working properly.
Septic System Installations
Over the last three decades, we've installed a lot of septic systems in and around Brandon, Florida. Our installations can include:
The septic tank
The drain field
A lift station for homes in recessed areas
A grease trap, piping and all other components in an efficient septic system
Septic Expert Help When You Need It
Quality Septic of Brandon has built a reputation for fast response times and unmatched knowledge of septic systems. We're here when you need us for:
Septic tank pumping
Septic system repairs
Drain field installation & repairs
Lift station pump repair & installation
Engineered septic system installation
For all your septic needs, speak with a helpful expert at (813) 328-7579. You can also reach out with our handy contact form.
Quality Septic offers complete septic services in Brandon FL, Valrico FL, Seffner FL, Riverview FL, Dover FL, Thonotosassa FL, Gibsonton FL, Mango FL, Lithia FL, Ruskin FL, Bloomingdale FL, and the Tampa Bay area.
Quality Septic Inc. | 1811 M Rd, Brandon, FL 33511