Our septic services are available to both commercial and residential customers in Plant City.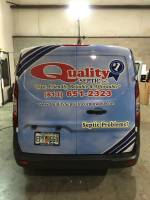 When you turn on your television, you'll probably notice an increase in shows about DIY home repair and renovation projects. More and more people across the nation are looking for ways to cut costs while increasing the value of their homes. While this is certainly a viable option in some areas of your property, there are others that should always be left to a professional. Septic services fall into the latter category, so if you're having an issue with your septic system, give us a call at Quality Septic Inc. We have more than three decades of experience in the industry, so you can trust that our technicians will do every job right the first time.
If you try to perform septic services yourself, you could face a couple of issues. Installing or repairing a septic tank is not an easy task, and doing it incorrectly could lead to damage that allows sewage and contaminated water to leak into the ground below. But at Quality Septic Inc., we have experienced team members who provide all kinds of septic services in Plant City, Florida, including service for drain fields, grease traps, lift stations, and any other part within the system.
Another important septic service that we offer is cleaning and pumping of the tank. You should have this done every 3 to 5 years to prevent more serious tank problems and backups. We can put you on a regular schedule to come out to your property routinely and ensure that the components are working properly.



Quality Septic Inc. is fully licensed and insured and has expertise and experience. Here are some of the types of septic system services we offer:
• Septic tank pumping– residential and commercial
• Installation of new septic tanks
• Engineering of NEW septic systems for businesses
• Engineering of new septic systems for ENTIRE residential neighborhoods
• Septic system service and cleaning
• Septic system Drainfield Repairs
• Inspection and repair of lift stations
• Replacement of lift stations
• Clearing lift station alarms
• Septic system drain field replacement
• Grease trap inspection and full service
• HRS inspections and certification – ask inspectors about us, please!
• Certified home inspections of septic system for buyer & seller
---
Septic Services in Lutz, FL
Septic Services in Land O'Lakes, FL