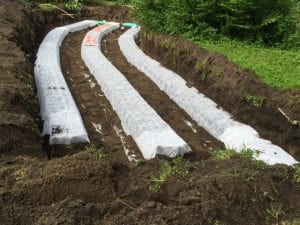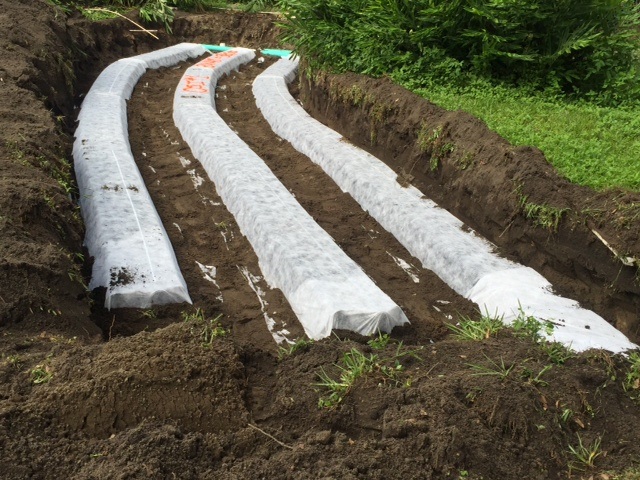 A septic system usually consists of two parts: the septic tank and the drain field. When both parts are working well and being maintained regularly by a professional, a septic system can last for many years without problems. On occasion, people may have issues associated with their drain field. These problems are most often preventable, and can be caused by many different things, such as:
Placing anything other than grass on the surface– Drain fields are buried beneath the ground and can be easily forgotten. Proper care above the ground will keep the buried drain field in good shape. For example, parking a car on the lawn, planting trees with burrowing roots or adding an addition to the home over the drain field can all break pipes or cause other damage, causing costly repairs to the system.
Overloading the septic system– There are many things that can overload a septic tank, such as infrequent pumping, using excessive amounts of water, and flushing items such as feminine products, tissues, and baby wipes down the toilet. These items and others cannot be broken down by the septic tank and will cause it to fill up faster.  When a tank is overloaded, the drain field cannot allow the effluent water to drain quickly enough, and flooding may occur.
Use of bleach or other chemicals– A septic system relies on bacteria to break down solids in the tank. By pouring strong chemicals or bleach down the drain, it will kill the bacteria and cause the septic tank to back up.
Drain field problems can be costly to repair. Prevention of drain field problems is much cheaper than replacement. If you have questions about your drain field in the Plant City, Florida area, contact us at Quality Septic Inc. today for a free estimate.
---
At Quality Septic Inc., we can solve drain field problems in Land O'Lakes, Lakeland, Brandon, Lutz, Plant City, Seffner, Odessa, Valrico, Ruskin, Thonotosassa, Tampa, and Wimauma, Florida.
Similar Services We Offer: