If you are experiencing drain fields problems in Lakeland, call us at Quality Septic Inc.
Drain fields are an important and necessary part of any septic system. When you experience drain field problems, it can also affect the system as a whole. These issues can be difficult to fix and should always be handled by a professional. If you have drain field problems in Lakeland, Florida and are looking for the best team to help, contact us at Quality Septic Inc.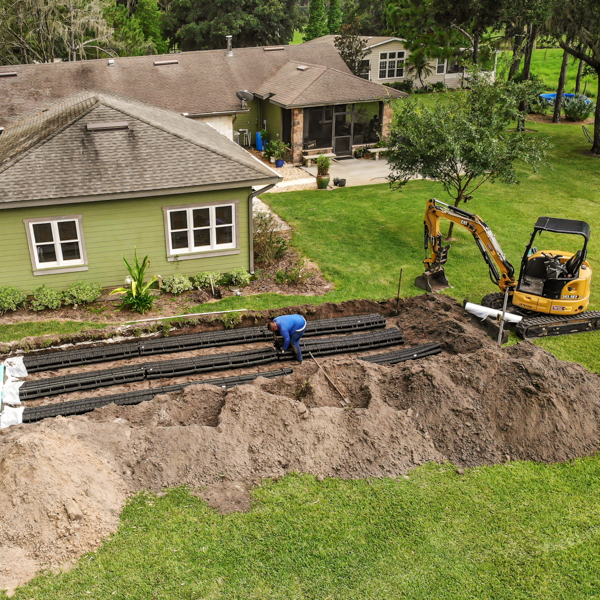 Because septic systems are complex and problems with the septic tank or drain field can become extensive fairly quickly, trust our staff to handle all your drain field problems. We have the training, experience, and equipment necessary to complete any drain field repairs or replacements. These aspects are key if you want successful, lasting solutions to drain field problems, and you can count on our team at Quality Septic Inc. to provide quality services and solutions to all of your drain field problems.
It is also important to note that drain field problems can often be easily prevented. Being aware of where your drain field is located and making sure nothing heavy is sitting on top of it is very important. Parking cars on the lawn or having other large objects on top of the drain field will quickly cause problems with your drain field. Equally important as what is on top of your drain field is monitoring what goes into your septic system. Too much water, foreign objects, and unsafe chemicals can cause costly damage to your septic system and lead to drain field problems.
Dos and Don'ts for Avoiding Drain Field Problems
Calling on us at Quality Septic Inc. is a wise choice when you are experiencing drain field problems. However, it is also a good idea to consult us if you are the proud new owner of a Lakeland, Florida home or commercial property and you are unfamiliar with the dos and don'ts about avoiding septic tank and drain field problems. We care about our community and want to help you get the highest number of years out of your septic system. Here are a few tips that will help you avoid problems.
Do call us for regular maintenance- You can never have the system inspected, cleaned, and maintained too frequently, but you can definitely do it too infrequently. With regular service, many drain field problems can be identified and resolved before they become serious and costly.
Do practice water and waste conservation- The more you introduce to the septic system, the more you could potentially put it at risk. Overwhelming it with a lot of water at once should be avoided. In addition, it is best not to use the garbage disposal excessively.
Do keep FOG out of the septic system- FOG stands for fats, oils, and grease. The septic tank can handle a small amount as it floats on the surface where it can be collected during a pump-out. However, if you get a thick layer, it will clog things up. FOGs do not break down like other solid waste, so it is best to limit them.
Don't flush anything but human waste and toilet paper- Personal care products, feminine care products, paper towels, baby wipes, cigarettes, facial tissues, and other such products do not break down readily enough to be safe for septic systems and can lead to septic tank and drain field problems.
Don't use antibacterial products- There is good bacteria that is a necessary part of the septic system as it breaks down waste. Antibacterial products kill it, thereby slowing or halting this important process.
If you are experiencing drain field problems, contact us at Quality Septic Inc. Our team is ready to help get your drain field and septic system in proper working order as quickly as possible.
---
At Quality Septic Inc., we can solve drain field problems in Land O'Lakes, Lakeland, Brandon, Lutz, Plant City, Seffner, Odessa, Valrico, Ruskin, Thonotosassa, and Tampa.