Have you recently purchased a property in Lutz FL or Land O' Lakes FL, intending to build a home on it? Does your current home have an aging septic system that needs to be replaced? Whatever your reason for needing a septic system installation, Quality Septic Inc., is ready to exceed all your expectations.
Since 1994, our expert crews have provided custom installations for our Land O' Lakes, Lutz customers. We install as part of new construction and as a replacement, and we guarantee our work and your satisfaction.
Installing a New Septic System in Lutz or Land O' Lakes
Solid experience is required to safely and properly install/replace a septic tank system. Many components are involved in the project to channel water and waste from your home to the tank and then on to the drain field.
First, we must assess your property to determine if a standard septic system will work. In most cases, it will. In cases where the soil isn't adequate or the property isn't large enough or features excessively sloped ground, an engineered septic system is the solution.
We know how to customize any septic system installation to give you the ability to safely and efficiently use your home's showers, sinks, toilets and other water supplies.
Tank Size
There are no "one-size-fits-all" septic tanks. The tank we install for you will be sized according to your needs. We'll do a complete assessment before any work begins to determine the proper septic tank size that will accommodate your usage needs.
When inexperienced installers set up a new system, they may try to cut corners with a tank that's simply too small. This will result in constant overloading, which leads to backups and a variety of plumbing problems.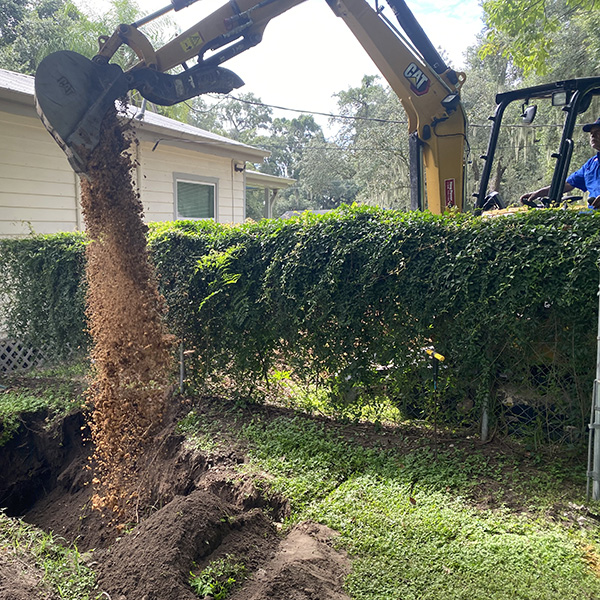 A tank that's too large is not only a waste of money, but it may not fit correctly in the space allocated for it.
Digging the Hole
Quality Septic of Lutz, Land O' Lakes has the heavy equipment needed to dig any size hole for your septic system – and we have operators who bring solid experience to every project to ensure a safe and proper installation.
The placement of the hole and thus the tank is important. We want to make sure it's not in a part of your land where cars will drive or park over it and where no heavy objects will be placed as this could damage the tank.
Getting it Connected
The final step in septic system installation for our Lutz, Land O' Lakes, FL, customers is connecting the drains and toilets in your home to the tank via a series of properly sized pipes. More pipes will be used to channel clear liquids from the tank to the adjacent drain field, which we can build for you, if necessary.
Other Components
Depending on the requirements of your new septic system, we may also install a lift station and/or grease trap. We'll discuss all this with you during the planning stages.
Land O' Lakes and Lutz Florida homeowners have trusted Quality Septic for more than 25 years for septic system installations on all types of land and terrain. If you need a new residential or commercial septic system installed, call (813) 754-9891 and speak with an experienced septic professional.
We serve customers in Lutz FL, Land O' Lakes FL, as well as Odessa FL, Wesley Chapel FL, Pebble Creek FL, and Cheval FL.