Does your Land O' Lakes, Lutz FL home use a lift station as part of its septic system? Are you new to your home and experiencing drainage problems? Are you building a new home on land that is recessed? In any of these cases, Quality Septic Inc. can help with expert lift station installation, inspection, and repair.
What Is a Lift Station?
Lift stations are major parts of a septic system that are installed when the home sits in a low-lying area and gravity isn't strong enough to channel waste materials efficiently. A key component within a lift station is the lift station pump.
Having a lift station installed will dramatically improve the efficiency of an existing septic system, and it will provide your newly built Land O' Lakes home with a system that prevents many issues with septic drainage now and in the future.
Lift Station Repair
All repair projects begin with a thorough inspection. Our lift station experts will evaluate the situation and let you know exactly what needs to be done to repair what's not working.
It's important to hire technicians who are fully trained and insured for any type of lift station repair to avoid having the work done incorrectly and causing you a lot of needless cost and disruption.
Lift Station Installation
If your current lift station needs to be replaced, if you're building a new home on recessed land or if you don't currently have a lift station but think you may need one, Quality Septic is your first choice for exceptional workmanship and personalized service.
Since 1994, we've provided lift station installation and replacement for our Lutz, Land O' Lakes customers who have gravity and drainage issues on their property. Quality Septic is owned and operated by a Florida state licensed septic contractor who has advanced knowledge of lift stations, lift station pumps and all elements of every type of septic system.
With a properly installed lift station, not only will your waste and water move more efficiently to the tank, but your overall system will run better with fewer problems.
Septic Service in Lutz & Land O' Lakes FL
We provide complete installation, replacement, and repair of lift stations, drain fields, septic tanks and all other components of your septic system. Our crew knows the importance of getting needed work done quickly, so we always make extra effort to start and complete jobs in a timely manner.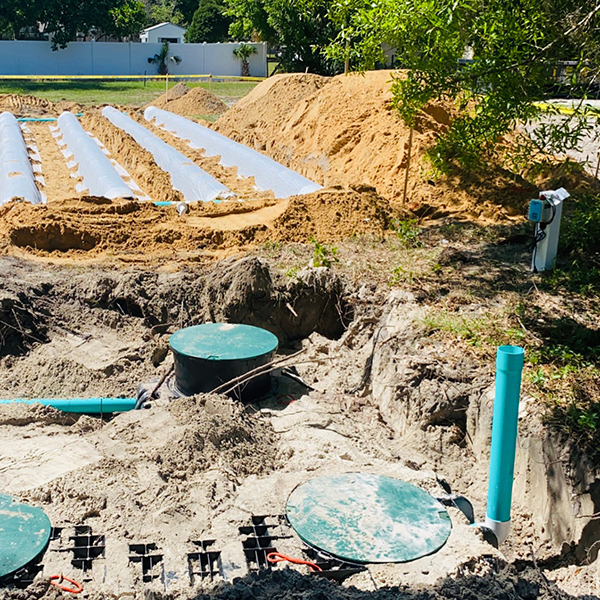 Along with emergency projects, we also provide regularly scheduled maintenance of your entire septic system to keep serious problems from popping up unexpectedly. Regular maintenance and regular inspections are the best way for you to keep your system running correctly and prevent the high cost of repairs that could have been avoided.
If you're aware of issues with your lift station or lift station pump, call the Land O' Lakes, Lutz septic experts at (813) 754-9891. We'll get to work quickly to solve any problem. We serve customers in Land O' Lakes FL as well as Odessa FL, Wesley Chapel FL, Pebble Creek FL, Lutz FL, and Cheval FL.