There are many common septic problems that you might experience.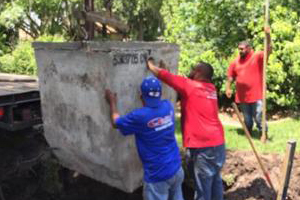 Using a septic tank, instead of being a part of a local sewage system, puts a little bit more responsibility on you for your waste water. While your septic system can carefully and effectively remove waste water from your home, if there are any septic problems, you'll need to get it looked at right away. Uncontained waste water in and around your home is smelly and gross and a major health hazard. Exposing you and your family to untreated water is very dangerous and should be avoided at all costs. Contaminated water needs to be handled by professionals because we know how to properly clean and disinfect areas that may have had exposure to sewage.
Septic problems could include the following:
Water draining slowly from your sinks, bathtubs, showers, or toilets
Backups of sewage into your home
Broken pipes
Contamination of ground water surrounding your home
Inappropriate or old materials used for the septic system
Bad smells in your home or in your yard
Flooding in your yard, or mushy spots, especially above where the drain field is located
Overly green patches of grass above the drain field
At Quality Septic Inc., here in Brandon, Florida, we are here to solve your septic problems. Let us know how we can help you, and we will be there right away. We know how serious issues with your septic system can be and will not delay helping to solve the problem. You should be able to enjoy the peace of mind that your system is running correctly and not feel worried about the waste leaving your home the way it should.
---
At Quality Septic Inc., we c/drain-field-problems/an solve septic problems in Land O'Lakes, Lakeland, Brandon, Lutz, Plant City, Seffner, Valrico, Odessa, and Tampa, Florida.