The drain field is one of the most critical parts of a residential or commercial septic system. If you're building a new home or breaking ground on a new business facility and need a septic system, it's important for you to know a little about it beforehand. We would like to share three important considerations for your drain field installation as you plan a new septic system.
1. Optimal drain field size
Residential and commercial septic systems must be able to handle the amount of usage they get every day. Whether you have a large operation or a household of four, your daily septic system usage needs to be estimated.
When our crew installs a new drain field or complete septic system, we help our customers determine the ideal size for the drain field and septic tank. If these components are too small, there could be backups down the line and the need for constant pumping. If they're too large, they're a waste of your money.
2. Soil evaluation
Before any drain installation begins, it's important to consider the condition and quality of soil your new drain will sit. Because your drain field releases wastewater back into the ground, your soil must be capable of handling this process.
Drain field soil can be modified if necessary. A reputable septic services company will do a soil analysis and a close visual inspection of the soil in preparation for a drain field installation. Never allow an installation to proceed without a soil evaluation and general land survey.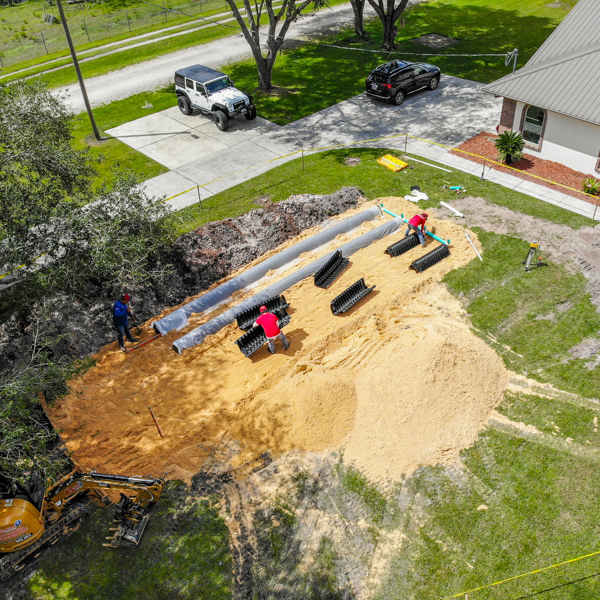 3. Location of the drain field
Choosing the location for your drain will depend on the amount of space available and the type of soil present. But there are other considerations that are just as important. You want your drain field installed in a space that won't be affected now or in the future by landscaping.
This means you don't want to place the drain field in an area that's susceptible to invasion by tree roots or where major planting and cultivating will be taking place. You also want a space that won't be driven over by vehicles.
Call your Florida drain field experts today
By addressing the above considerations, you'll be making the smartest moves that lead to a quality drain field installation at your home or business. Hiring the right septic services provider will further ensure a successful installation.
If you live in the greater Plant City region of Florida, Quality Septic is a name you can trust for professionalism, experience and a level of customer service that's unmatched in our industry. We provide drain field installation along with septic tank pumping and repair, septic system installation and all other septic services. We respond rapidly to emergency calls.
Do you have questions about drain field installation or need assistance determining the best course of action for a complete new septic system install? Call us today at (813) 754-9891 or reach out through our convenient contact form.