Ensure a properly working system with a drain field inspection.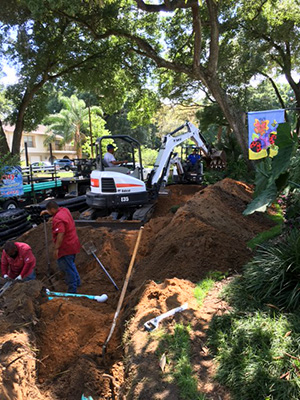 When you have a septic system, you quickly learn that it is more than just a septic tank! A septic system is a series of interconnected parts, each with its own job and features that enable the breakdown and return of effluent water safely to the groundwater. Here at Quality Septic Inc., we have decades of experience that enable us to help you with everything that you need regarding your septic system, including the all-important drain field. If you suspect that there is an issue with your drain field, our team of experts recommend that you call us for a drain field inspection in the Valrico, Florida area.
A drain field inspection is a great way to determine if there is an issue as well as give you proper peace of mind. Your drain field is a series of perforated pipes that help to take the effluent water from the septic tank and allow it to properly percolate and filter back into the ground water. When there is an issue with the drain field, you can end up with hazards like contaminated groundwater.
Here at Quality Septic Inc., our drain field inspections are thorough and comprehensive. We take the time to carefully comb through your drain field and inspect it for signs of problems. Should you suspect or have suspicions that there are issues, we can efficiently find them and handle them due to our skilled employees and experience. If you are worried your drain field is failing or is in need of repairs- don't wait! Give us a call today for a drain field inspection.
---
At Quality Septic Inc., we offer drain field inspection services in Land O'Lakes, Lakeland, Brandon, Lutz, Plant City, Ruskin, Seffner, Wimauma, Odessa, Valrico, Tampa, and Thonotosassa, Florida.