You could avoid expensive septic repairs with our drain field inspection services in Thonotosassa.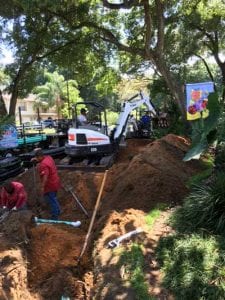 You may have noticed a portion of your lawn that is quite a bit more lush and green than the rest. That's a good thing, right? Not necessarily. It could be a sign that there is an issue with your drain field. If you notice standing water or odors, it may not be functioning properly. To find out for sure, call us at Quality Septic Inc. and ask for a drain field inspection.
Our experienced team will check out the entire system and give you an assessment. In most cases, a drain field inspection indicates a mild to moderate repair is all that is needed. Drain fields last a long time if properly cared for, so if yours isn't more than 25 to 30 years old, it is unlikely to need replacement. Other than severe damage from repeated parking/driving of heavy vehicles on top, earth shifts, or mistakes made during installation, repair is generally all that is needed.
We were the first septic company in the Thonotosassa, Florida area, so you can feel confident that we know what we are doing. More than 25 years of inspecting, repairing, and installing drain fields has given us the experience necessary to provide you with quality service. You'll find everyone in our employ friendly, helpful, and knowledgeable, so your experience exceeds your expectations.
If you suspect a problem or just want the peace of mind that your system is operating properly, give us a call. In many cases, an inspection can resolve a small problem before it becomes a costly one. We're the company everyone else aspires to be, so instead of getting a duplicate, get the original!
When to Schedule a Drain Field Inspection
At Quality Septic, Inc., we are as dedicated to helping you prevent problems at your Thonotosassa, Florida home or business as we are to resolving them. That is one of the main reasons why we offer drain field inspection services. We are also happy to advise you on when to schedule various septic services so that you can avoid costly problems, including premature replacement of the septic tank, drain field, or other components of your septic system. Here are some situations when you should schedule a drain field inspection:
You notice a symptom of a potential problem
If you notice lusher grass than normal, standing water, slow drains throughout your home, noises, odors, or other symptoms, you should call right away for a drain field inspection. We'll check out the entire system and find out what is going on and advise you on how to resolve any problem that we find.
You are purchasing a home or commercial property
There is an inspection period during which you can renegotiate with the seller if a problem is found. For commercial properties, this is called a due diligence period. While a standard inspection is recommended by real estate professionals, we recommend a septic tank and drain field inspection also be done so you can learn more about the system's condition and age, and get other information.
Annual inspections for peace of mind
To gain the greatest peace of mind that all is well with your septic system, we recommend annual septic tank and drain field inspections. This is particularly true with an older system.
Your well water test wasn't favorable
If you have both a septic system and a well, it is important to have your well water tested regularly along with a regular drain field inspection to be sure your septic system is not contaminating the water. If you have received an unfavorable water test, you definitely need to find out if the drain field is to blame and needs immediate attention.