We offer affordable drain field inspections you can count on.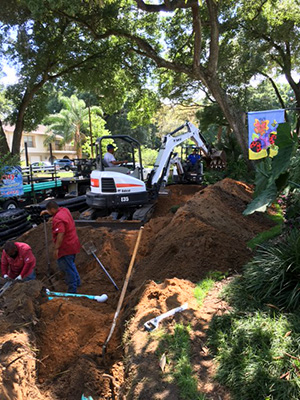 When you have a septic tank, it is important that you watch out for a few visible clues that your system is in need of repair.  A part of the septic system that is often overlooked is the drain field.  It is usually very easy to tell if your drain field isn't functioning properly.  First if all, you might notice that the grass around the drain field is very green and has grown much faster than the other grass on your property. This could indicate that you have a leak in your drain field.  You might also notice standing water around the drain field, or an especially bad smell coming from that area.  These are all signs that you need to call in a professional for a drain field inspection.
If your septic system is less than 30 years old, it is very likely that drain field repair will fix the problem.  The sooner you spot the problem via a drain field inspection, the better.  If you put off repairs, you may have to replace the entire drain field.  Since a repair is much more affordable, quick action on your part can save you a lot of money and the cost of a total replacement.

At Quality Septic Inc., we have been doing drain field inspections and repairs in Brandon, Florida and the surrounding areas for over 25 years.  We offer fast, friendly, and affordable septic services to all of our customers.  We are very reliable, and you can count on us to show up on time and ready to get the job done.  We will work closely with you to make sure you are satisfied with the services we provide.  We can have drain field inspections and any necessary repairs done quickly and efficiently, so you don't have a big mess on your hands. Contact us at Quality Septic Inc. for affordable septic services you can count on!
---
At Quality Septic Inc., we offer drain field inspection services in Land O'Lakes, Lakeland, Brandon, Lutz, Plant City, Ruskin, Seffner, Wimauma, Valrico, Odessa, Tampa, and Thonotosassa, Florida.