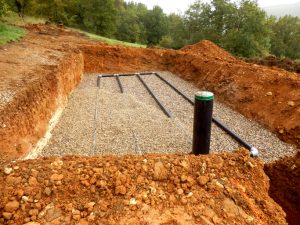 Proper installation is the first step to a long and satisfying relationship with your septic system.  At Quality Septic Inc., we pride ourselves on over 25 years of septic system service in Florida to the Land O'Lakes, Brandon, Lutz, Odessa, Plant City, and Tampa areas.  Through this experience, we have learned that a proper installation is critical to make sure your system lasts and performs to its optimum ability.  Here are 3 reasons you want to start right with the proper septic system installation:
Longevity. A proper septic system does not come with an expiration date.  They can last from 40 years to a lifetime.   Most of the fear associated with septic systems comes from a failed system due to improper installation or maintenance.  When you turn to us at Quality Septic Inc., we provide professional installation, so you can rest easy about the system functioning properly from day one.
Safety: A properly installed septic system ensures quality of life by protecting your soil, landscape, drinking water, and ecosystem.  The majority of improper installations result from the decision to save a little in the short term, at the expense of long-term function and cost.  Don't leave it to chance.
Simplicity: While a septic system should last for a long time, it does require proper pumping and maintenance. When you do it right, that pumping and maintenance is far easier and much more cost-effective.
The upfront investment of properly installing your septic system will prove long-term savings, satisfaction, and worry-free experience.