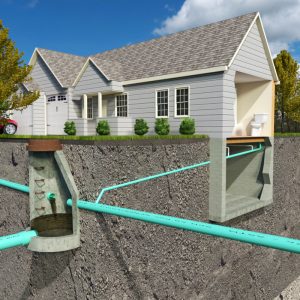 When you have a septic system on your property, it is a given that you will need septic services at some point in time.  Septic systems are not designed to be left alone — they require maintenance and regular pumping to work properly.  If septic services are not done on a regular basis, you could have a sewage leak in your home, on your property, or in your commercial building.  Sewage leaks are hazardous and often create huge cleanup projects. They often require you to contact a disaster cleanup company to come out and handle the process because it is considered hazardous waste.
Septic services include the initial installation of the septic system on the property. A professional septic installation company will come out and determine the best place to put the septic system. They will also handle the drain field installation. If you already have a septic system but it needs to be replaced, they can remove the old system and install a new one.  They may even be able to reuse or salvage some of the existing parts to save you money.
Septic pumping and cleaning should also be done on a regular basis and is included in septic services.  It is recommended that your septic tank be pumped out and cleaned every three to five years, depending on the size of the tank and how many people are using the tank on a regular basis. Failure to pump the tank can cause sewage to back up and can damage your septic system.
Regular maintenance and inspections are also part of septic services.  Systems are maintained to make sure they are working correctly, and an inspection allows for small problems to be fixed before they become big problems. Maintenance and inspections are done on the entire septic system, including the tank and drain field.
If you need reliable and affordable septic services for your home or commercial property, contact us today at Quality Septic Inc. We have over 25 years of experience and can take care of all your septic needs.