30If you've never lived in a home with a septic system before, you may find it tricky to make the adjustment. At Quality Septic, we've been helping homeowners make that adjustment since 1994, and we can help you.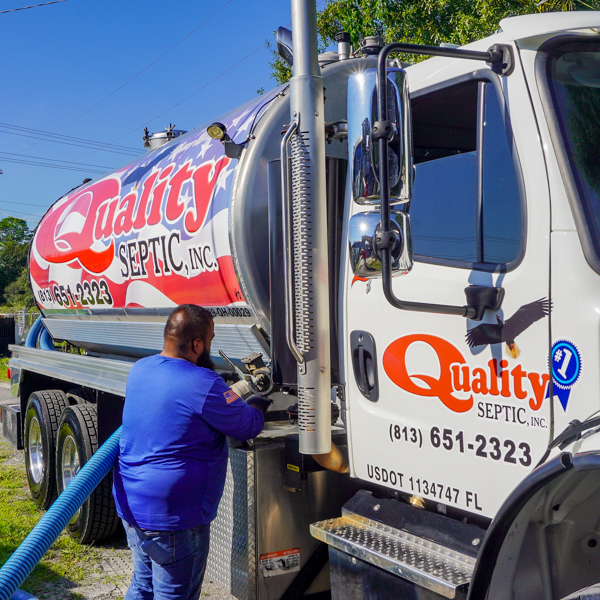 It's very common for first-time septic system users to feel nervous about their new maintenance responsibilities. Unlike with a municipal sewer system, the responsibility to care for your septic system is yours alone, so it's understandable to be a little worried about it.
Knowledge is power, as they say, so our team has put together a simple guide for newbie septic users. We'll tell you the key things you need to know about septic pumping and maintenance so you can take proper care of this essential system.
How a septic system works
Septic systems are fairly simple – at least in terms of how they work and what they do.
Waste from your home's toilets, sinks and other drains flows into the underground septic tank. Once in the tank, solid waste sinks to the bottom while liquid waste flows into the adjacent drain field for filtration and ultimate release back into the ground.
An important function within your septic tank is the activity of bacteria. Countless microscopic bacteria that live within the tank break down the solids into a liquid sludge, which stays inside the tank until it's removed by septic tank pumping.
The majority of septic tanks are designed to only need pumping once a year, so you don't have to keep up with any kind of daily or monthly maintenance. To further simplify the maintenance process, most septic services providers (including us) offer maintenance agreements that put everything on an automatic schedule that you don't have to think about or keep on top of. When it's time to clean and pump your tank, it will get done.
Dealing with septic system issues
The main problem a septic user may face is a backup. This can be caused by an overfull tank, excess grease clogging the lines, sludge processing out into the drain field, damage to the tank or drain field, and several other problems.
If you keep your system properly maintained, as noted above, you shouldn't have to deal with backups – or any other serious problems. Septic systems are designed to run quite efficiently, and they do an amazing job of allowing life to go on as usual without your home being connected to a municipal sewer system.
Call the experts for exceptional service
We hope this outline has been helpful to you in getting more comfortable with your septic system's operation and maintenance needs. We've found that septic customers enjoy their systems much more when they have a basic understanding of how a septic system works, what needs to be done to prevent problems and what to do if problems happen to arise.
For regular preventative maintenance service or rapid service in emergencies, we're always available at (813) 798-0122. Quality Septic Inc. is fully licensed and insured to serve Plant City FL, Brandon FL, Tampa Bay FL, Lutz FL, Land O' Lakes FL, and other local Florida communities.