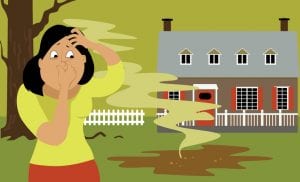 It is neither a fun nor inexpensive, situation when your home needs major septic system repair. Sometimes this is unavoidable, particularly when the system is at the end of its lifespan. However, as a homeowner, you can extend the life of your system and thereby avoid costly septic system repair bills. The way is through regular maintenance of your septic system. This involves both frequent inspections and having the septic tank pumped out regularly. In addition, take the time to learn what you should and should not do in terms of what is flushed and how to landscape in the septic tank area.
Inspections are necessary to catch small conditions before they become major septic system repair issues. The inspection should occur at the same time as pumping out the septic tank, provided you use a company that actually does this as part of the service. Don't assume that they do – ask. Speaking of the pumping out, that is also more vital that you might think. Fluids rise to the top and proceed through the drain field, but the sludge and solids drop to the bottom and fill up the septic tank over time. Much of this goes through decomposition from the bacteria that feeds on it, but if you have a large family, not enough of the bacteria, or are flushing the wrong things, this can accumulate quickly and cause a blockage, leading to septic system repair or failure altogether. Additionally, choosing the wrong plants for your landscaping can impede the proper operation, leading to septic system repair.
At Quality Septic Inc. we have provided fast, friendly, reliable & affordable septic system repair and maintenance for the Plant City, Florida area for over 25 years. We are more than happy to educate you about the proper use of your home's septic system and perform an inspection, cleaning or septic system repair if needed. Call us today for all your septic needs.