The drain field is a critical septic system component. It's in this field that wastewater from the septic tank is processed through a series of pipes before being sent into adjacent ground and groundwater.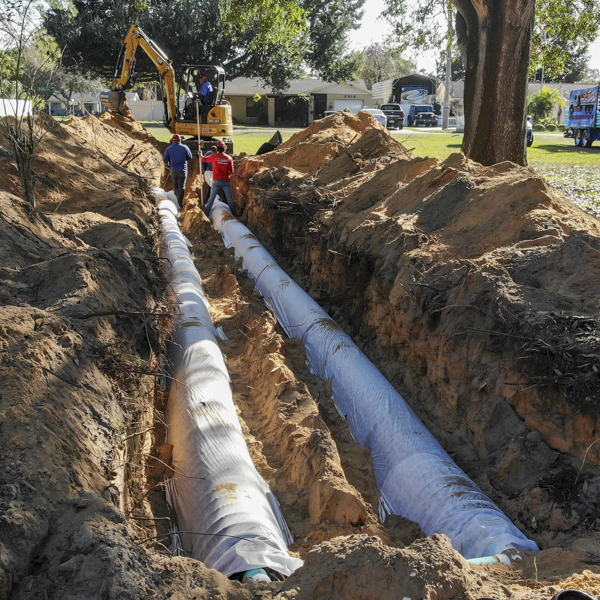 While a drain field might sound simple, it's anything but. Fortunately, your septic contractor will handle the design and installation of the drain field. He or she will also help you decide on the ideal place on your property for the new field.
When Quality Septic Inc. of Plant City, FL, installs a drain field, two of the most important considerations are the size of the field and correct placement. Many terrible things can happen as a result of the drain field being too small or if it is built in an inappropriate area.
Here's how we go about deciding where and how to install a new drain field.
Assess the land grade away from the septic tank
Because water will be flowing from the septic tank into the drain field, we ideally want to place the drain field at an elevation lower than the tank. That way, gravity will move the water for us.
Depending on the configuration of your property and the location of the septic tank, it may be impossible to place the drain field at a lower elevation. In this case, we'll need to include a lift station, which will force water from the tank to the drain field.
Choose an area that won't get heavy use
As with a septic tank, a drain field should be installed in an area that won't be subject to a lot of above-ground traffic. You don't want vehicles driving over the drain field or parking on top of it. The same goes for heavy machinery and equipment.
And you definitely don't want to place the drain field in an area that will be the future site of some kind of building construction. It's important to not only keep heavy stuff off the drain field but also to make sure technicians can access it for future maintenance and repairs.
Determine the right drain field capacity
When we install a new septic system, one of the things we want to determine is the projected amount of waste and drainage that will be moving from your home and into the system. This determination is very important when installing a new drain field.
We'll help you come up with a general estimate of usage based on the number of people in your household and their usage levels and patterns. This way, we'll be able to build and service a drain field that's large enough to handle everything your septic tank sends to it.
Call the Florida drain field experts
At Quality Septic Inc., we're here to help you with the drain field installation process from beginning to end. This includes helping you determine the optimal size and location for your new drain field. We've been serving customers with drain field installations for more than 25 years, and we'd love to serve you, too.
Our work area includes Plant City, Land O'Lakes, Brandon, Plant City, Tampa, Lutz, Odessa, Lakeland, Thonotosassa, Ruskin, Valrico, Wimauma, Wesley Chapel, Riverview, Seffner, Dover and all of Polk County FL.
Reach a septic expert today at (813) 754-9891 or get in touch with our handy contact form.