If you have a septic system, then you already know that it needs to be regularly pumped out in order to function properly. What you may not know is that the grease trap in your system also needs to be pumped in much the same way as the tank.
Quality Septic Inc. of Plant City, FL, provides expert grease trap pumping and maintenance along with all other septic services that our Florida customers require.
Let's look at the basics of grease trap pumping why it's so important.
Grease Trap Pumping 101
Unlike the wastewater from your toilets or showers, the water from your kitchen sink is likely to contain substances like grease, oil and different types of fatty compounds.
The grease trap in your septic system is in place to prevent these potentially harmful substances from flowing into the drainage lines. This prevention is accomplished by collecting grease in a series of baffles. Once contained, the grease and oils float on top of the water and remain safely in the trap until it is cleaned out.
If you fail to have your grease trap professionally pumped with reasonable frequency, grease will accumulate and cause clogs and other serious problems in your plumbing system.
By having your grease trap pumped regularly, you'll prevent these clogs and allow wastewater to continue to flow as it should, making room for more grease to be collected in the future.
How you can help your grease trap
While you probably can't avoid adding any grease or fatty deposits to your kitchen sink, you can reduce the volume you introduce into your septic system.
If you do a lot of frying or other cooking that involves a large amount of oil or grease, keep handy a metal container into which you can pour excess greasy substances. Never pour cooking grease down your sink!
Not only will less grease be good for your septic system, it will also be good for your in-sink garbage disposal, which can suffer damage when grease, oils and fats are deposited in it.
Because you can't see grease accumulation in your septic system's grease trap, we suggest you schedule periodic inspections and preventative grease trap pumping by a reputable septic company.
The Quality Septic team will evaluate how you use your kitchen sink and how much you use it, and we'll take a close look at your grease trap, septic tank and other parts of the system. We can then recommend a schedule for thorough grease trap cleaning and other septic maintenance activities.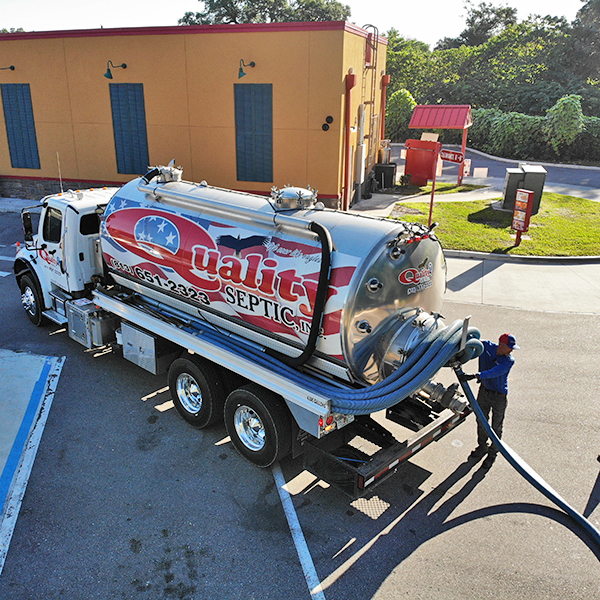 Keep your septic system clean and efficient
We've been in business since 1994, providing the very best in septic tank pumping, repairs, inspections, installations and, of course, grease trap pumping. When quality counts, we're ready to bring you speedy service any time of year.
We work throughout Plant City FL, Brandon FL, Tampa Bay FL, Lutz FL, Land O' Lakes FL, and other local communities. Speak with a septic maintenance expert today at (813) 798-0122.